Not many people knew him before April 2020 when Bobi Wine named him to the Mercy Walukamba NUP Electoral Committee. The Commission was charged with identifying candidates for the Kamwokya outfit ahead of the 2021 general election. The man is Hajji Musa Misango.
Misango had worked with telecom giant- MTN as an IT expert before moving to West Africa to work with a major UN agency. From West Africa, he moved to Southern Sudan where he led a mega intercontinental NGO as its country director.
It's, thus, not surprising that Hajji Misango was already enviable and well-oiled financially at the time of his appointment to the NUP Electoral Commission.
He was placed overall in charge of the entire Eastern region and tasked to identify candidates for Parliamentary and higher local council positions in Busoga, Bugisu, Bukedi, Sebei, Teso and Karamoja. The task was certainly a daunting one but given his strong financial endowment, he delivered superbly, much to the appreciation of Bobi Wine.
He was reluctantly given additional responsibilities in the management of the electoral process in the region, including the overall supervision of the campaigns of NUP candidates at various levels. He was chosen for the task since he was the only leader on the commission that had not shown interest to contest in the elections of 2021.
His conventional leadership and special eye for quality over quantity were obviously going to flash him with his subordinate leaders, the majority of whom were young, greedy and overzealous.
According to Mr Nsimbi Muzamilu- the NUP Chairman for the Kaliro Muslim district and former MP contestant for Bulamogi North West in Kaliro district, greedy NUP leaders started feeling uncomfortable when Hajji Musa to be their supervisor by default demanded a high degree of integrity from them. He, for instance, notes a scenario when two of the five leaders suspended two weeks ago combined to swindle the money which was meant to facilitate the nomination of MP candidates in Busoga. He reveals that when Misango tried to call them to order, they ganged up against him and things were never the same after that.
At the height of the battle for supremacy between Moses Bigirwa and Andrew Muwanguzi, Misango, as expected refused to take sides. This placed him in a position of an arbiter naturally. He was consistent in telling off either side of their mistakes on the road to restoring the badly needed harmony and cohesion. In the process, he found himself on the wrong side of each of the sides.
These realised that their interests were all threatened by a more resilient, straightforward and incorruptible religious conservative. They thus plotted his downfall by joining hands for the common cause before they could return to the battlefield again.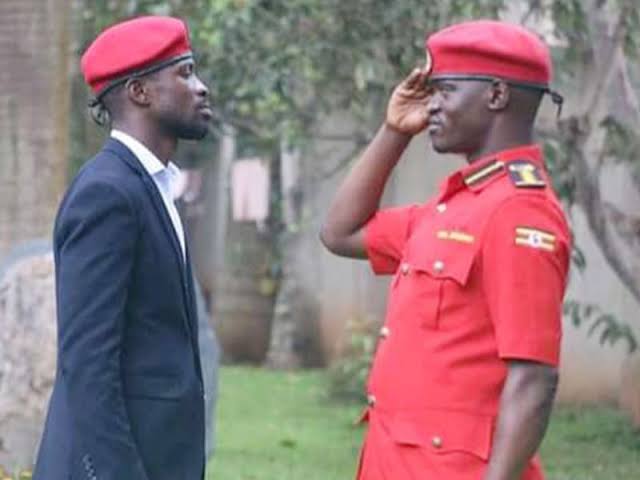 Various leaders had appealed to Misango to spearhead a process to have these leaders who were throwing the party in a bad light replaced. A meeting was held where Misango, with a few selected leaders, arranged to establish a reach campaign to realign party leadership in Busoga. They were to move to villages reawakening and refilling the structures with the view of democratically electing their leaders to replace the "rotten" group.
However, the group led by Bigirwa, Lulenzi and Muwanguzi reported to the Headquarters that the powerful Hajji from Kamuli was masterminding an extortionate plot aimed at self-aggrandizement. They alleged that he had organised to solicit money from the party faithful which was risking the image of the party.
Without enough probing into the matter, Misago was summoned to Kamwokya where a meeting chaired by Nobi Wine's brother Fred Nyanzi passed a verdict that he had been suspended from his position in the party.
Many leaders from Busoga who felt Misango was the cement keeping the party intact in Eastern Uganda still feel irked by his exit from the party. Like Muzamilu Nsimbi, Moses Lyada, the NUP Coordinator for Bunyooli also feels the exit of Misango is a loss from which the party may find it hard to recover.
" His fallout with the leaders at the top didn't only affect Busoga but the whole of Eastern Uganda. Many of the leaders and more so those who contested in the elections in 2021 still bear allegiance to him. He was a unifier and an advisor to many of us. I just hope things get back to normal between the parties." Lyada told Watchdog.
Asked to comment on his unceremonious exit from the party for which he sacrificed sweat and blood to build, Misango who was careful to be misquoted told us he had moved on and only wished the party well.
On the suspension of his former tormentors, Misango noted he was sure his former bosses at Kamwokya had thought about it prior before arriving at the decision but warned it could further complicate things for them in the region. He, however, prayed that God guides Bobi Wine to resolve the matter without tearing the party apart.
On whether he was looking to mend fences with Kamwokya, he revealed that he had moved on. He noted that he was using this time to be with his family from whom he had been away while working in Mali and South Sudan.
" It's not an issue between me and Bobi Wine or anyone else. It's a matter of principles. I have chosen to move on and give time to my family because I had spent the last four or five years away from them. I now want to be with them before I think of what next.
But to be honest I pray for them all the time. I pray for them to move through the storm and succeed in bringing about change." He added.
On whether he still sees himself as a member of the NUP, Misango was non-committal.
" That, I am not certain. But I think I am, technically. I am a card bearer of the party and I think my suspension was from the leadership position I held. I am not sure. Maybe I will have to consult on that. But the most important question is where my heart lies. The answer is I don't know yet."He explained.
The post Meet The Secret Man Whose Fall Out With Bobi Wine Has Dismantled NUP For Museveni in Busoga appeared first on Watchdog Uganda.
,Watchdog Uganda,