With Uganda currently having about 23 million active internet users, and a majority of these being mobile phone users (UCC Rep. 2020), most modern-day media channels have had to go digital. A big number of Ugandans now prefer their content in the palm of their hands, as this has become the new normal and am sure you are one of this category of people.
Uganda live tv app is a must have tool in your smartphone whether you are a football lover, music, movies, soaps and series or you like following hot tv programs and shows. SoSo TV app is the answer for those who have been looking for the best uganda live tv app for video and tv streaming services and am sure you have heard about this app either from your friends or somewhere else and this is the best time for you to know it better.
What Does a Uganda Live Tv App Do?
Live tv apps are capable of playing live streams from different tv channels over the internet or when connected online. Tv stations provide options for streaming live through internet to the cloud server which converts tv signals into a streamable link, so uganda live tv app consists or plays uganda online tv streams.
What Is SoSo TV App?
This is a mobile app by developer known as "SoSo Media (U) Services". It provides video streaming services similar to popularly known platforms such as Netflix, Hulu, Amazon Prime and other similar apps although soso tv app mainly focuses on Ugandan contents to facilitate on service delivery to most Ugandans in the country and in diaspora, In other words it's a Uganda Live TV app.
How And Where To Get It?
SoSo TV app is available for free download from Google play store and can also be downloaded as a direct apk from some sites when searched from a browser.  Download App Now
Or open Google play store app from your phone, search the word "SoSo TV" google will display results for your search.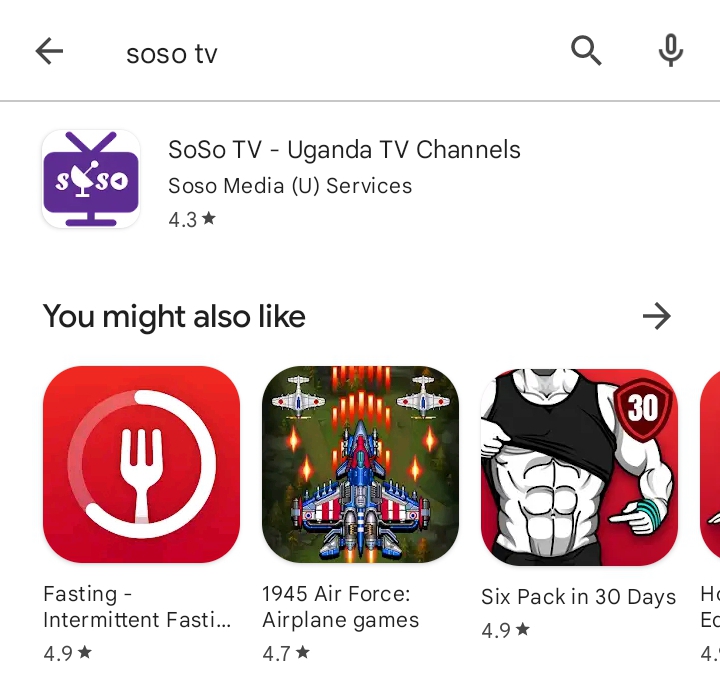 Select the app titled "SoSo TV – Uganda TV Channels" and install, after installation now it's available among other apps in your phone.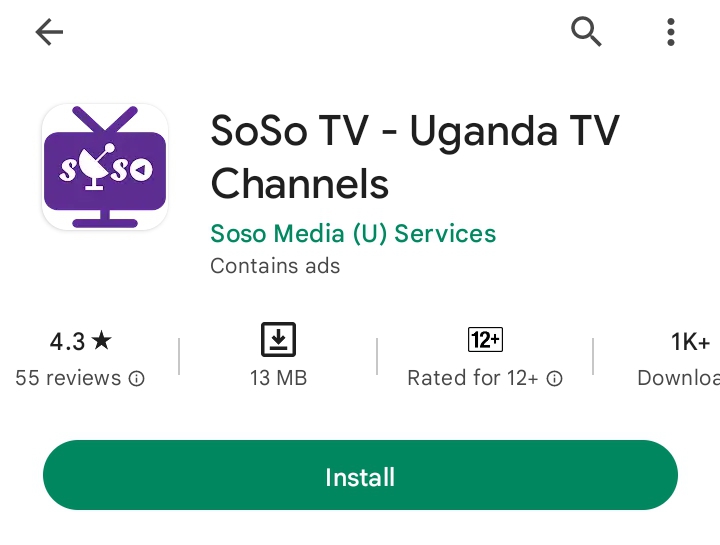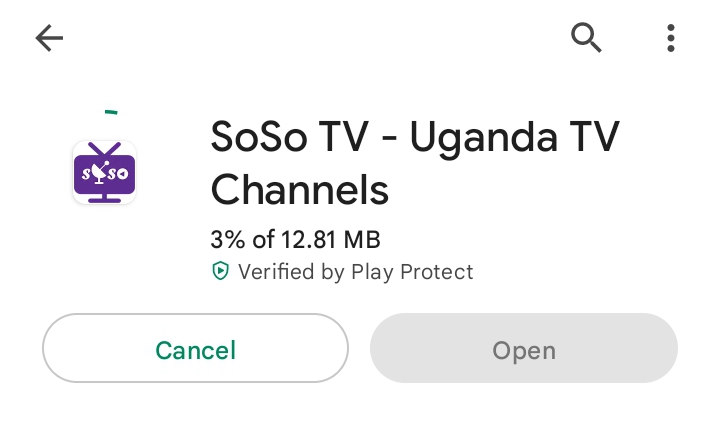 Since you have known what SoSo TV is and where to get it, now let's see top reasons why you need it to be installed in your smartphone.
#1. Daily Video Entertainment:
With this app you will keep entertained any time anywhere for free since the app is well equipped with different kinds of video entertainment whether live streams or video on demand (VOD) services.
Watch all of your favorite TV channels and movies from all categories in one place available in HD quality without any added costs.
#2. No Payments or Subscription Required:
Since the developer of the app understands the economy in the country, has provided the app for free which means no payments or subscriptions required in order to use the app. Now you can watch all local and international tv channels, movies and series for free. You only need some internet connection on your phone to access the services, credits to the developer.
#3. No login or Registration Required:
Unlike to it's competitors, the app can be accessed easily without login or registering to the app. No strings attached.
#4. All local TV Channels:
The app has a variety of all Uganda tv channels such as Bukedde TV 1, Bukedde TV 2, NBS TV, Salt TV, NTV UG, Sanyuka TV, Urban TV, TV East, TV West, NBS Sports, Star TV, Wan Luo TV, Spark TV, Dream TV, BBS TV, UBC TV, See TV, Magic 1 TV, Ark TV, Nyce TV, Gugude TV, Delta TV, Sat7 Kids, Fort TV, U24 TV, KTV, Cartoon TV, Channel 44, Top TV, Baba TV, Salaam TV, Spirit TV, KS TV, Moon TV, Rest TV, BM TV, Flash TV, ABS TV, Manifest TV, and many more.
#5. Hot International TV Channels:
Watch over 20 international tv channels for live sports, breaking news, music, cinemas, telenovela soaps/telemundos, gospel, fashion shows, kids channels and many more on SoSo TV App.
Live Fooball: SoSo TV App has tv channels that broadcast live football matches and events from popular football leagues such as premier league, champions league and many more.
#6. Luganda Translated Movies & Series:
SoSo TV has it all for you as you will be able to watch your favorite luganda translated movies and series from top Uganda VJs such as Omutaka Ice P, Vj Junior, VJ jingo, VJ Kevo and others. The app is well arranged and categorized so that you get the best user experience. You will find action movies, horror, love story, adventure, sci-fi, christian movies, indian movies, nigerian movies, korean series, chinese series, kids cartoons, comedy and many others.
#7. Smooth & Faster Loading: The app is optimized, loads smoothly and faster to give you the best user experience.
#8. Automatic Notifications: The app keeps you up to date since you can get automatic notifications for every new tv channel or movie is uploaded in the app.
#9. App Themes: With SoSo Tv app, you can use dark or light mode with simple switch.
#10. Search Option: Hustle free and easily find a movie or tv channel by search option. The app is simplified for you since you can easily browse categories or search.
#11. Small App Size: Worried of phone storage or data required to download this app?, worry no more since soso tv app only requires around 13 mbs to download it and doesn't consume more space on your phone.
#12. Extra Channels For None Ugandans:
On top of Uganda tv channels and international channels, SoSo TV brings more tv channels for users from different African countries such as:- Rwanda tv channels, Kenya tv channels, Nigeria tv channels, South sudan tv channels, Tanzania tv channels, plus others
See app screenshots from here 👇👇
From the experience i have with this app that's why i have decided to share it with you and i hope it will help you too. If you find this article helpful kindly comment and share it with your loved ones.
Also read: Top 5 Apps To Watch Live TV In Uganda For Free